Abstract: Leadshine EL7 AC servo is used for CNC fiber laser cutting machine with the advantages of stability and efficiency, excellent effect and easy debugging, help customers upgrading and make performance to the best .
Keywords: Fiber laser cutting , Leadshine AC servo
1. Equipment Introduction
Fiber laser cutting machine is one of the most advanced equipment in modern industrial field. With the characteristics of fast cutting speed, accuracy and flexibility, it has brought unprecedented impetus to the development of machining.
The laser cutting machines mainly include plate metal laser cutting machine and tube laser cutting machine.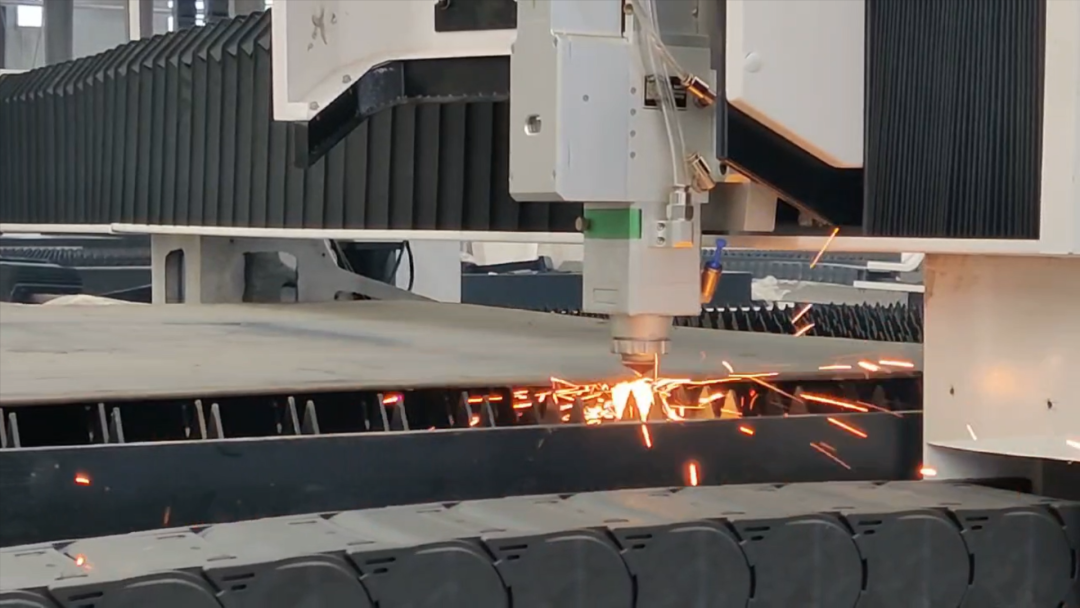 Plate cutting machine can be used to cut all kinds of plate metal materials with high speed and precision, while cutting surface is flat, smooth and burr free.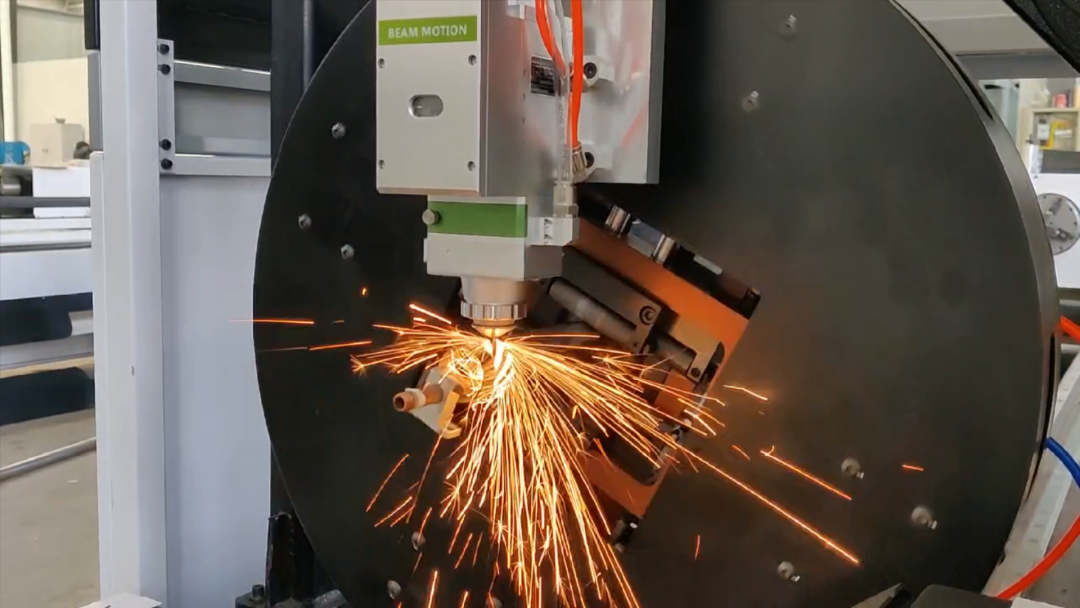 The tube laser cutting machine can be used for cutting of various complex graphics on square, circular, I-shaped and other metal tubes, with thin cutting seam, smooth cutting surface and less material loss.
2. System Configuration
2.1 The solution for plate metal laser cutting machine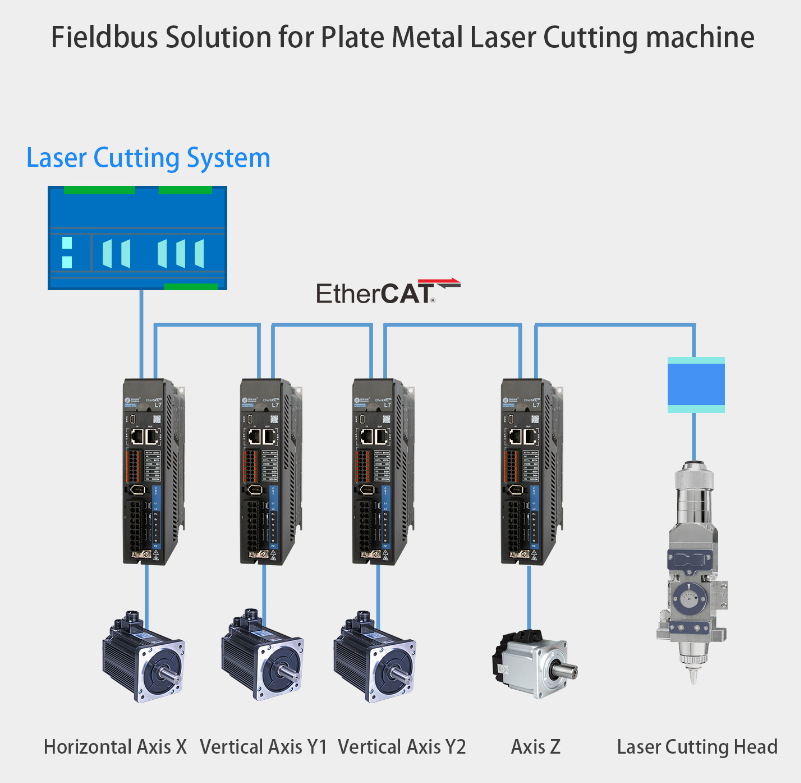 2.2 The solution for tube metal laser cutting machine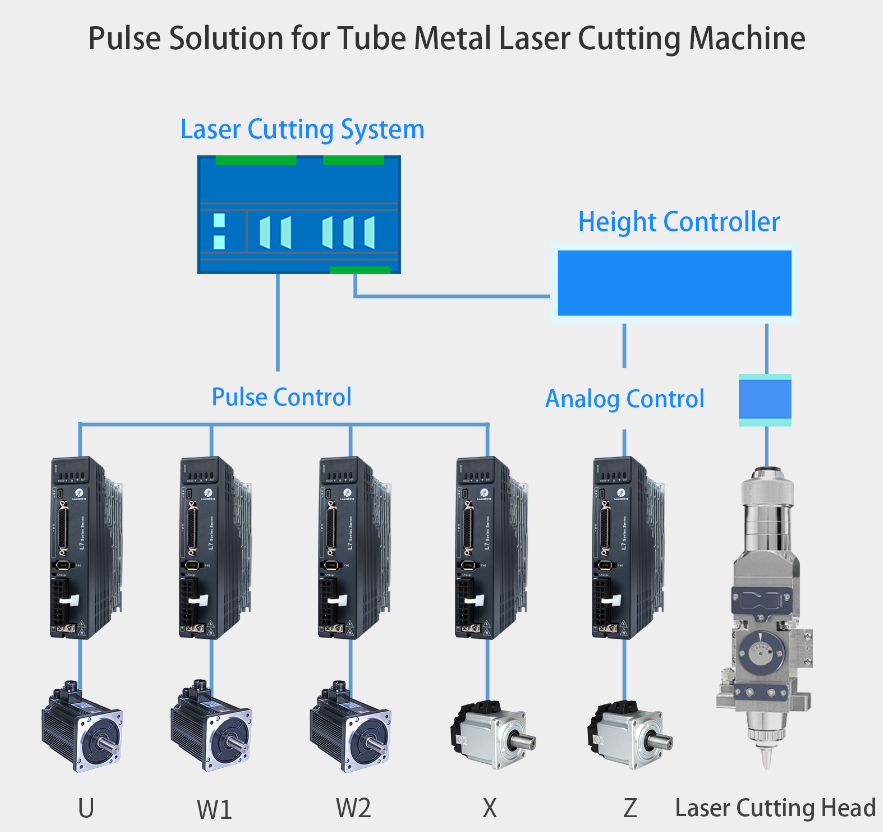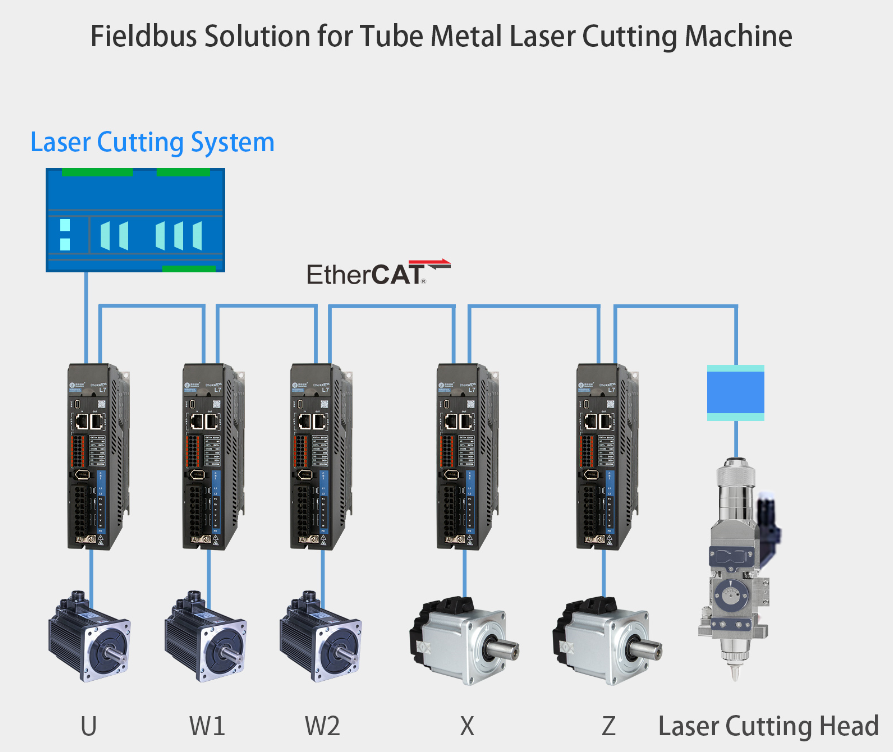 3. Main features of Leadshine AC servo EL7 series
Great compatibility
Match with controller systems perfectly : BCS, Weihong, Beckoff , Au3tech, orsendico ,Simens . Both network and pul/dir are supported .
High positioning accuracy
The motor with large inertia, large torque and high precision make the maximum running speed up to 140m / min, the acceleration up to 2G, the positioning accuracy up to 0.02mm and the repeat positioning accuracy up to 0.01mm
Matching all kinds of machines
Match with plate metal laser cutting machine , tube laser cutting machine and plate& tube laser cutting machine
4. Solution Advantages
Easy tuning : fast tuning is finished only with setting 2-3 parameters

Full range of models : EL7 servo with 50w to 7500w , match with power range of laser machine from 1kw to 40kw , servo with 50w to 7500w

Abundant power : 1.15 times continuous overload and 3 times instantaneous overload. The performance is still perfect with the maximum acceleration up to 2G

Precision cutting : easily to get precision machining and better roundness with notch filter and friction compensation

Safety protection : STO and dynamic brake