Affected by the epidemic, the Automate Show originally scheduled to be held in 2021 has been postponed to 2022. After nearly three years, Automate Show held the offline event again, attracting global exhibitors and visitors in the fields of AI, robotics and industrial automation. As the world's leading provider of motion control products and solutions, Leadshine presents the latest products and technologies at the Automate Show 2022, and has the chance to communication face to face with attendees to discuss the industry development trends, and explore new cooperation opportunities.
At this show, Leadshine displayed various new products such as integrated stepper motor iCS series, dual-axis stepper drive 2EM3E-556, dual-axis closed-loop driver with EIP control 2CS3EIP-D507, I/O module R2 series , integrated servo motor iSV2 series, 50W AC servo motors, dual-axis AC servo drive 2EL7 series, dual-axis low-voltage servo drive 2ELD2 series and etc. These products are widely applied in the industrial fields, like CNC Machinery, CNC Laser, Logistics Industry, Electronics & Semiconductor, etc.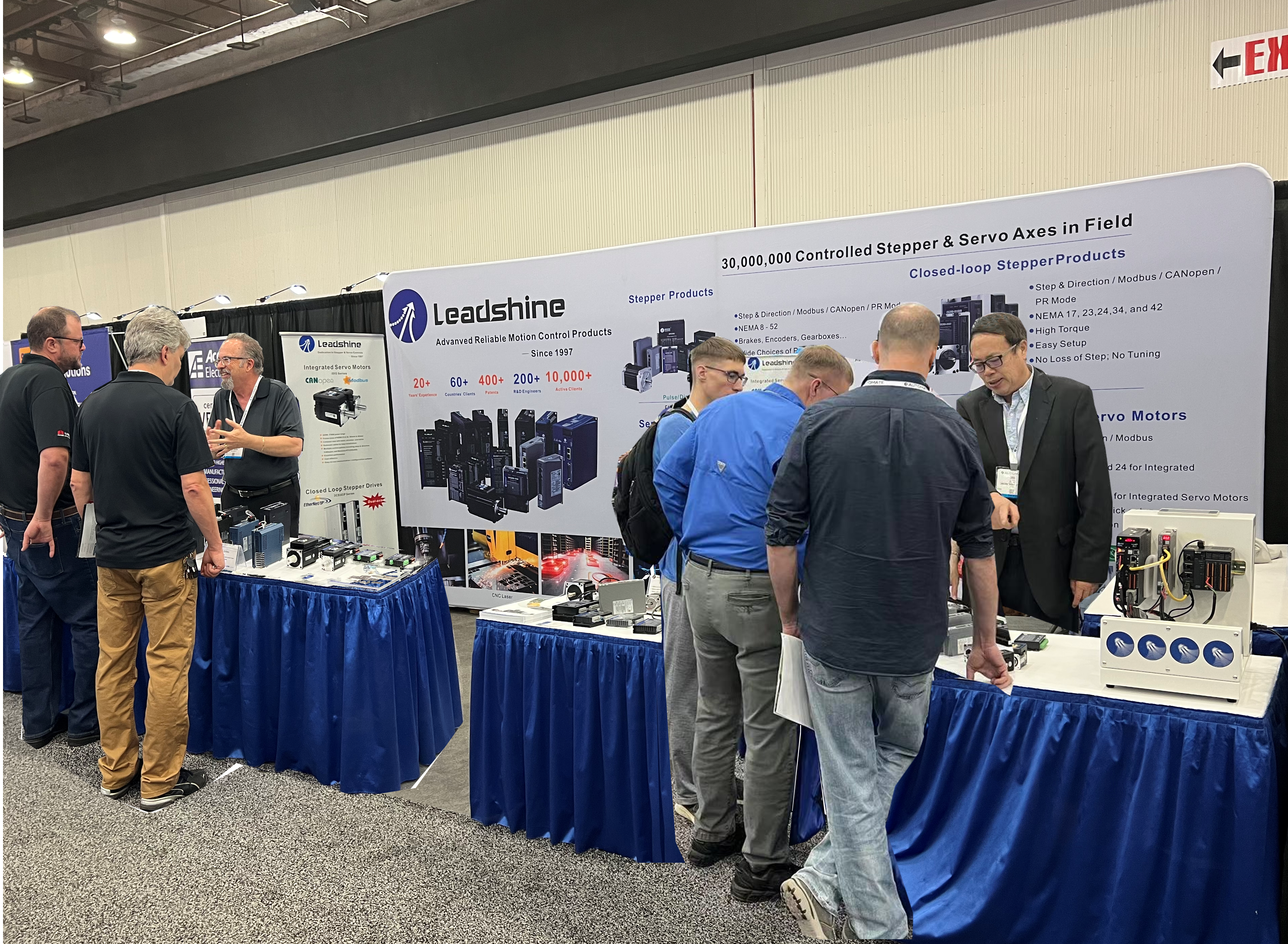 Meanwhile, on June 6th, the first day of Automate Show 2022, Leadshine brand new English website, which took nearly a year of preparation and development, was launched officially. Thanks greatly for the support of Automate Show organizers, Leadshine has the opportunity to invite many customers, dealers, and visitors to gather together to experience the great changes brought by the new website. This new version website adheres to the original intention of customer-centered. Regardless of visual design or functional operation, has made new adjustments from the perspective of users. Chris Li, the head of Leadshine's US office, demonstrated the five major highlights of the new English website, which won a lot of applause.
As the newly released official website, here are still many imperfections that need to be improved. We hope that if users around the world find any problems related to the website, please feddback to Leadshine (info@leadshine.com) timely, so as to help Leadshine provide better customer service.
Leadshine will continue to provide global customers with competitive motion control products and solutions, bring customers greater benefits and value, and contribute to the development of global industrial intelligent manufacturing.
Leadshine will attend the IMTS 2022 during September 12~17 at McCormick Place, Chicago, we look forward to meeting you again.