In recent years, the booming rise of high-end manufacturing and emerging industries has driven the rapid development of the industrial automation field. As the world's leading motion control solution provider, in today's unpredictable competitive situation, how to respond to the opportunities and challenges brought by the development of the industry has become crucial.
After 4 years, Leadshine will bring a full range of motion control products and industry solutions to the SPS IPC DRIVES held in Nuremberg from November 14 to 16, 2023, contribute to the upgrading of global smart manufacturing.
Highlights Preview
1. Brand new control product line
In recent years, in order to improve the competitiveness and provide customers with a complete set of motion control solutions, Leadshine has invested more resources in developing a new control product line while continuing to improve our stepper and servo product lines. Having launched large PLC LC1000 series, medium PLC MC500 series, and small PLC SC series, which can be used in conjunction with different types of I/O modules to meet the diversified needs of customers in various scenarios.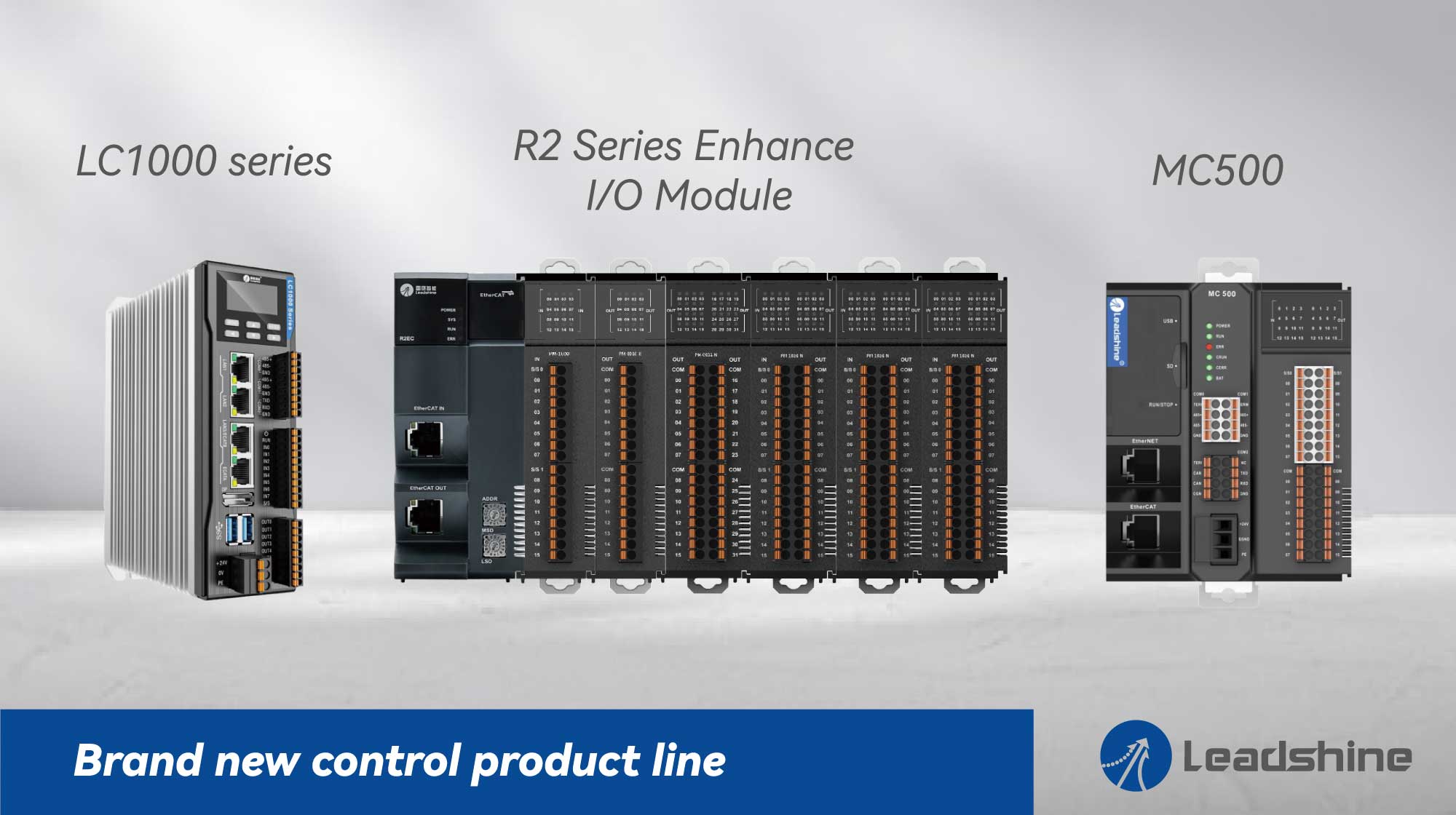 2. Increasingly complete servo product line
Leadshine has been working in the field of servo products for years. Currently, and has launched a full range of EL8/EL7/EL6 AC servo drive products, as well as single and dual-axis DC input servo drives, which can support many of international general control modes such as pulse, Modbus, EtherCAT, PROFINET etc. Those servo products cover a wide power range, supporting 50~7500W servo motors. Many drives can support STO certification, covering different mid-to-high-end applications. There are also self-developed linear drives that can be adapted to most branded linear motors and voice coils on the market, have been successfully verified in the Chinese market and recognized by customers. In addition, after rigorous market research, product development and testing, Leadshine has launched mini DC input servo drives to provide reliable solutions for the AGV logistics industry, helping customers to reduce costs and increase efficiency greatly.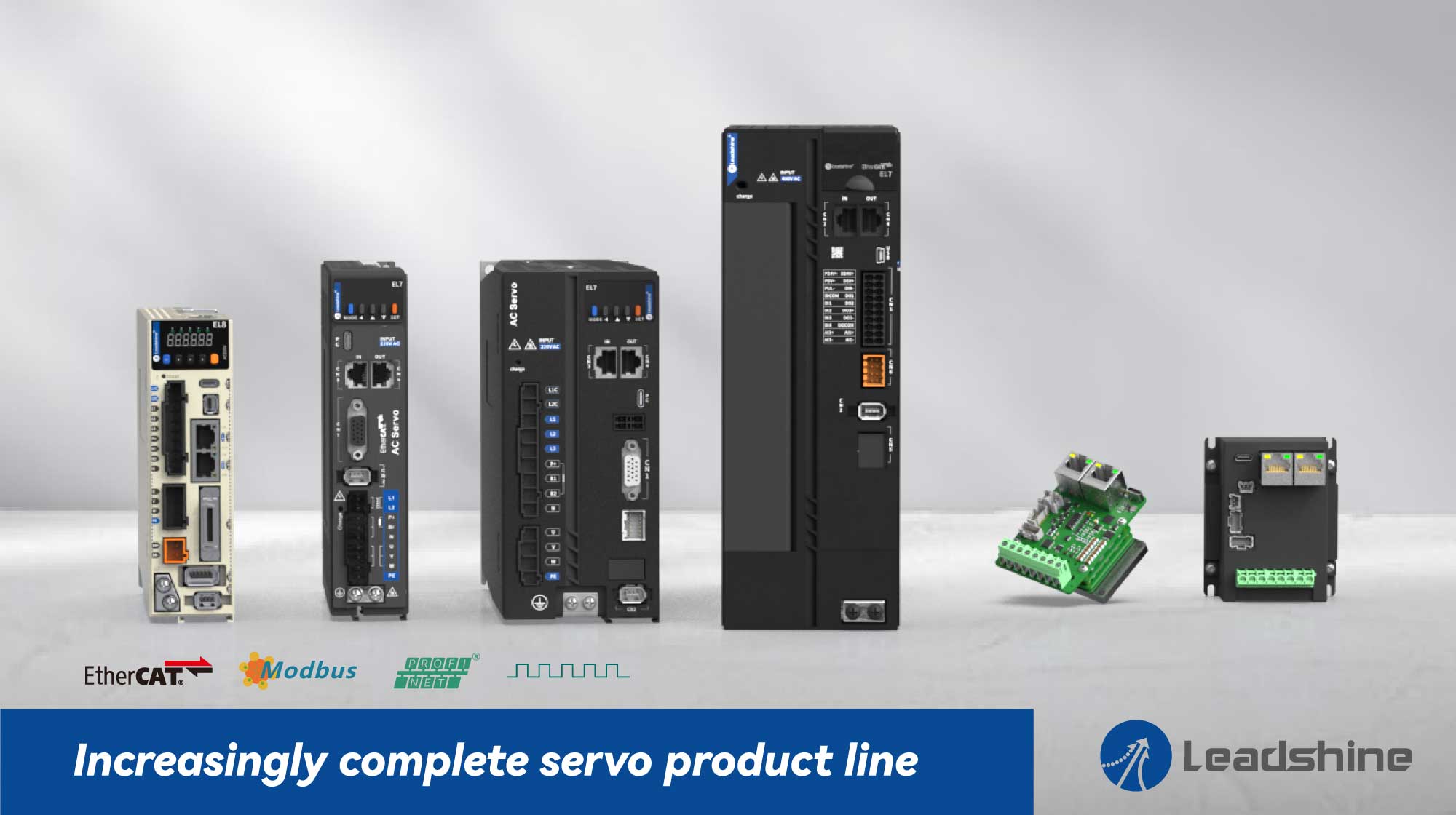 3. More competitive stepper product line
As the traditional advantageous product line, Leadshine keeps improving to provide customers with more competitive products and services. Now we have launched various types of open and closed-loop stepper drives, supporting PROFINET, EtherNet/IP, EtherCAT, Modbus, Pulse and other control modes. Dual-axis, 4-axis open and closed-loop drives have also been launched, greatly saves the installation space and labor cost. 5-phase stepper drives have higher positioning accuracy, and are suitable for applications with high accuracy requirements. The newly developed IP65 integrated stepper drives can also support multiple control modes such as PROFINET, EtherNet/IP, EtherCAT, Modbus, Pulse, etc., suitable for scenarios with high requirements for dust and water resistance.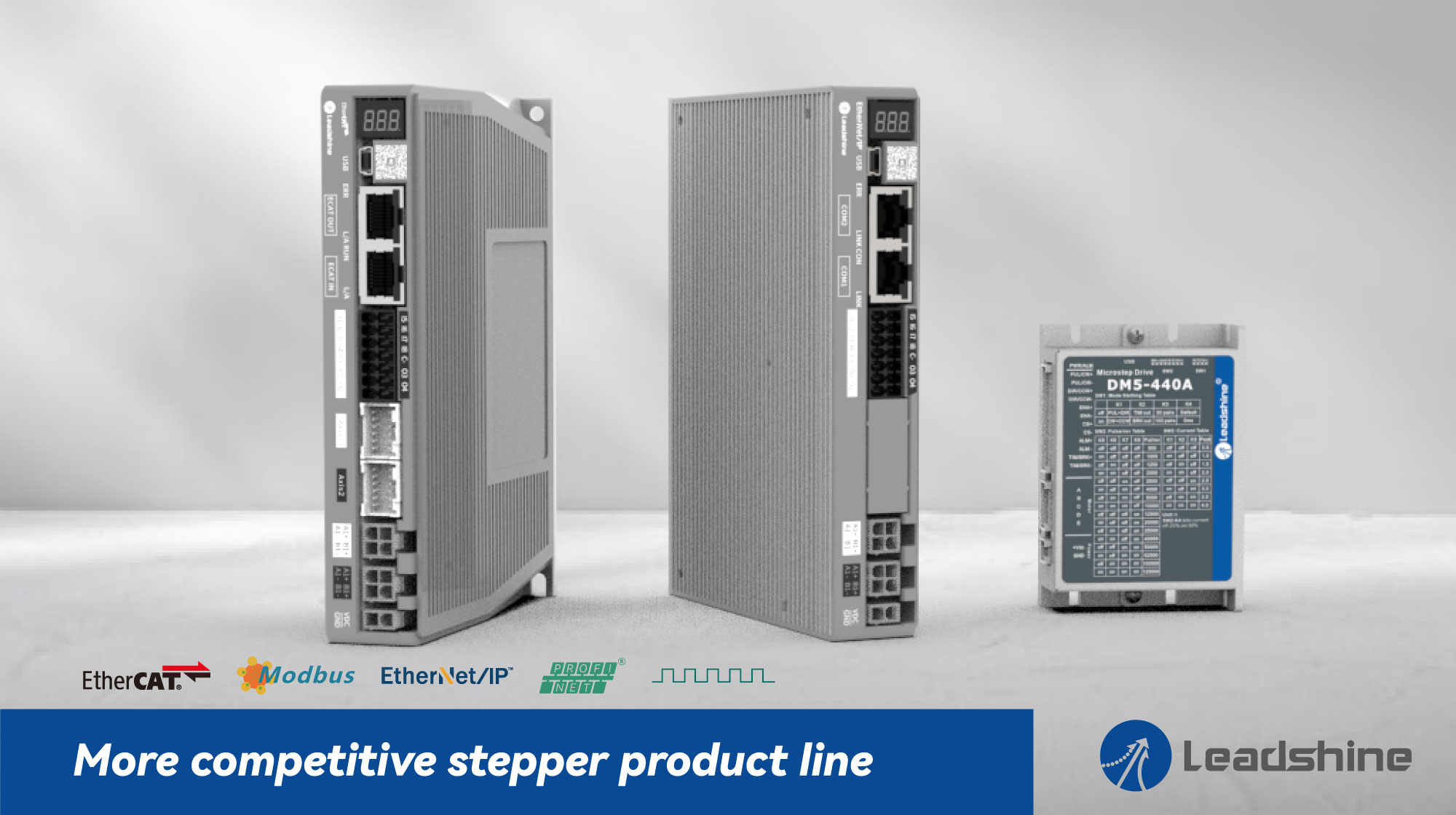 4. More abundant industry solutions
Since its establishment, Leadshine has provided complete motion control solutions for global customers in various industries, mainly focusing on the traditional CNC machinery, CNC laser, packaging, medical & healthcare and other industries, as well as the emerging industries like renewable energy, electronics and semiconductor, AGV & logistics, robotics etc, providing customers with a variety of motion control products covering the information layer, control layer, drive layer, execution layer, etc. The integrated solutions help customers save communication, trial and error costs, and help customers upgrade the intelligent manufacturing industry. We provide customers with various kinds of motion control products covering information layer, control layer, drive layer and execution layer, and our integrated solutions help customers save communication and product testing costs, improve the management and production efficiency.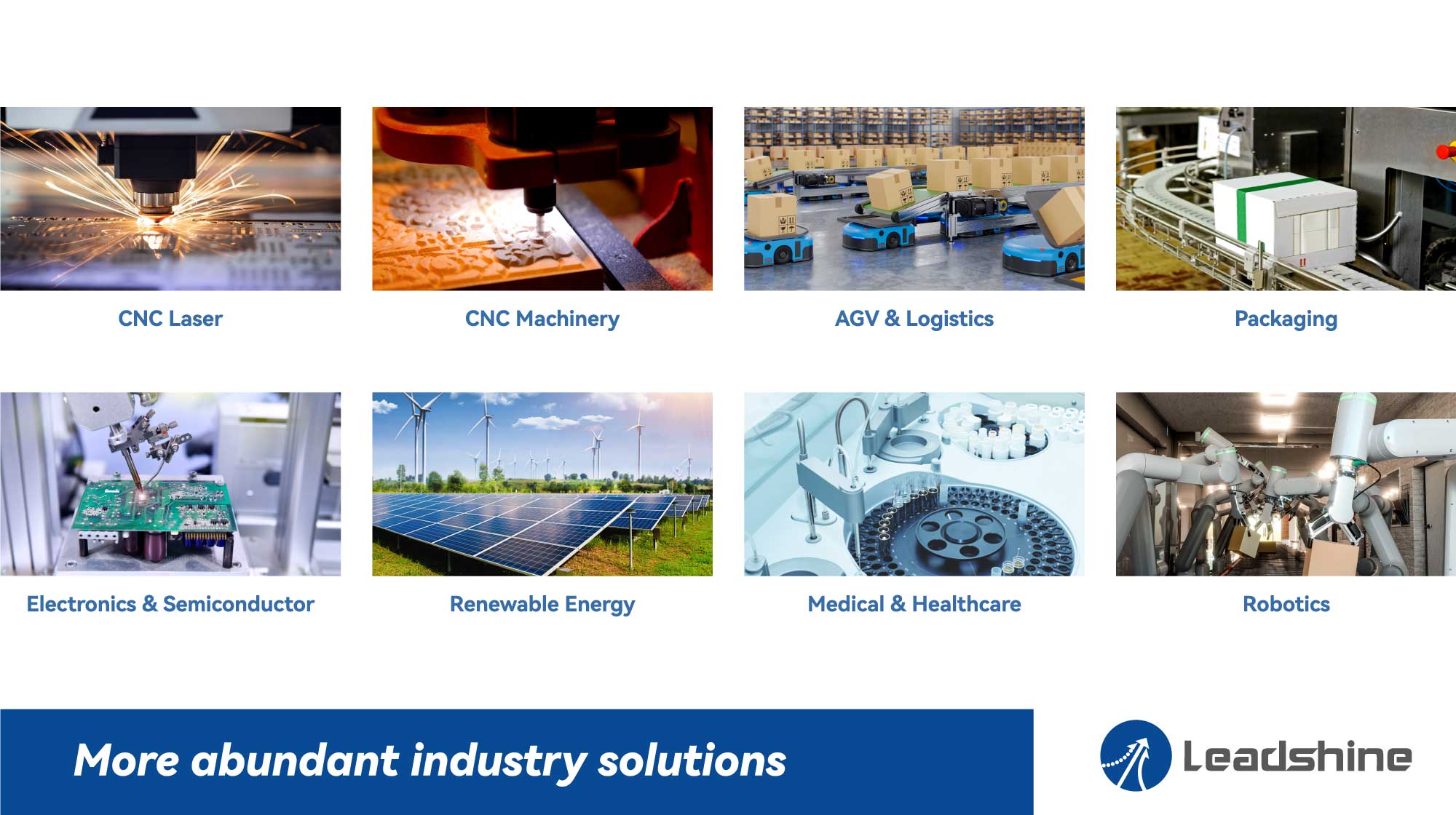 How to find us quickly?
Before the epidemic, as a frequent exhibitor to the SPS exhibition, Leadshine had been meeting with global customers in Hall 1 every November. This year, in order to display our technology and industry experience accumulated over the years in more detailed and comprehensive way, we selected a larger booth in Hall 1, 1-634. The picture below can help you find the Leadshine booth faster.
The booth construction is also based on the display of our full product lines and total solutions, leaving enough open space to facilitate detailed and in-depth communication between customers and Leadshine professional staff. Meanwhile, a quiet rest area will be convenient for visitors to take a break in time.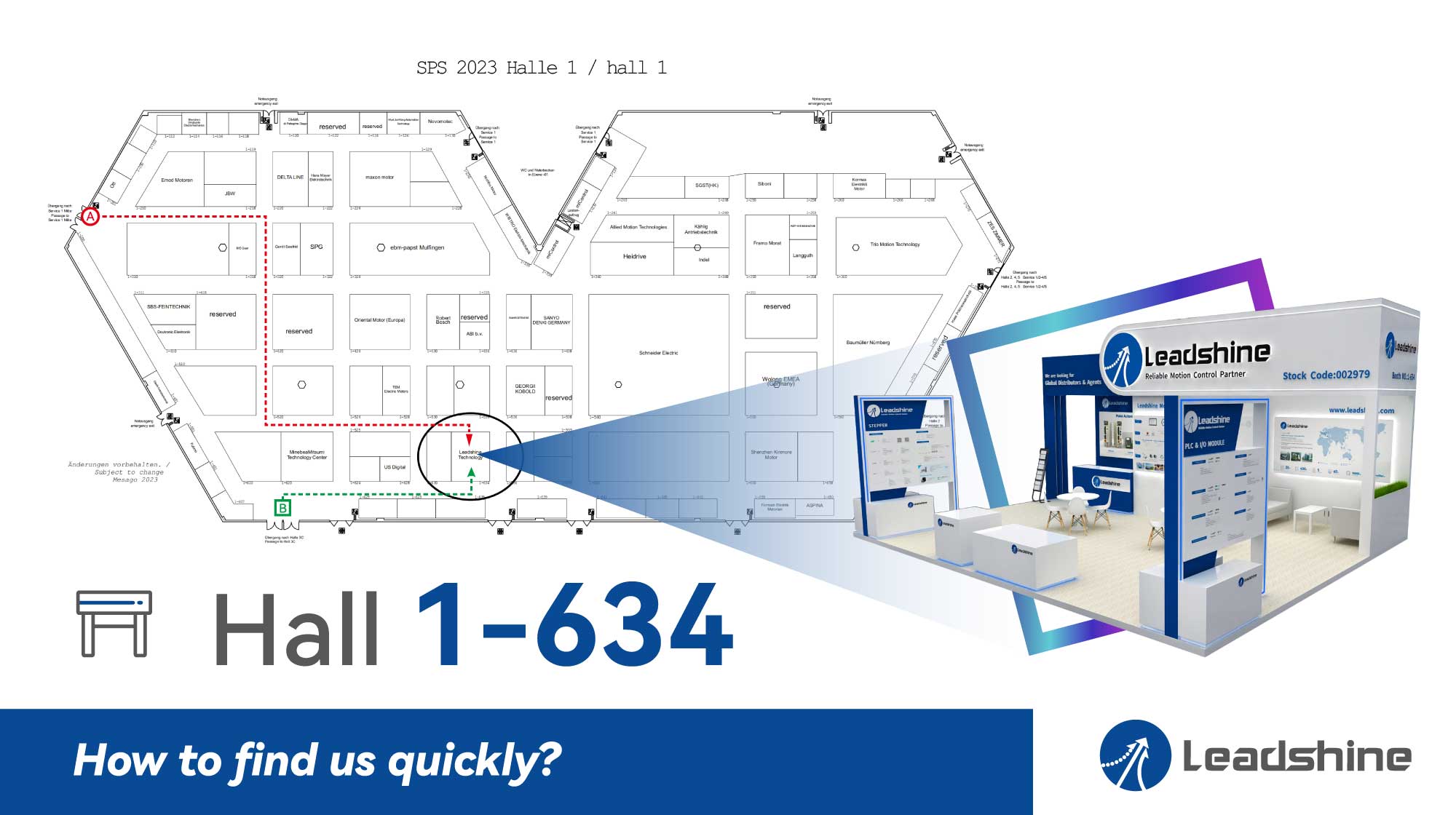 About SPS show
SPS - Smart Production Solutions: Bringing Automation to Life
The SPS is the industry highlight of the automation sector and, with its unique concept, represents the complete spectrum of smart and digital automation - from simple sensors to intelligent solutions, from what is feasible today to the vision of a comprehensively digitized industrial world.
The reunion of the automation community at the SPS 2022 was a full success - this was not only shown by the unique feeling at the event on site, but also by the evaluation of the figures. 43,813 visitors informed themselves about product innovations and solutions of the industry at 999 exhibitors on a total area of 112,000 sqm.
We are looking forward to meeting you again.

We believe that wonderful show is on the way.